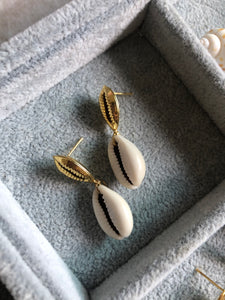 Each pair of earring might be slightly different from the photo, because each Cauri shell is natural.
* 1.7"
We are clearing our inventory to make space for all the new stuff. We are selling these pieces ridiculously cheap because there is only one on inventory, they have a lot of time sitting on our inventory boxes or some were pieces that Jacdami made and was not 100% happy about selling them. Because we do not want to throw them away, we decided to sell them for a super affordable price and give them the chance to make someone happy.
ALL SALES ARE FINAL, NO REFUND, NO RETURNS, NO EXCHANGES. DUE TO DEMAND, PLEASE ALLOW 2-6 BUSINESS DAYS FOR SHIPPING AND HANDLING.